Learning Tanimbar Culture and its People in Southeast Maluku Regency
---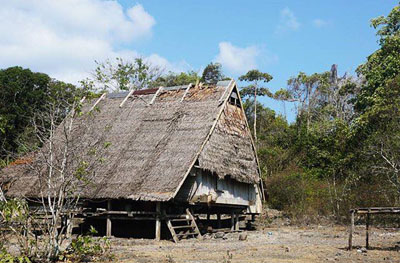 Culture or traditions become a unique attraction for travelers, as these offer distinct experiences. As for reference, there is Tanimbar Village in Southeast Maluku Regency. Despite its secluded location, the village has attracted many travelers and adventurers from different regions. This local settlement becomes the home of Kei People and it is separated into two different villages, which are "Kampung Atas" and "Kampung Bawah". Both of them are worth an exploration, actually. Not to mention the village offers numerous traditions, from which travelers can learn.
The Nuance
First things come first. Before learn and explore the culture of Tanimbar Village, travelers should take advantage of the beauty of such settlement. The houses are located near to the sea, as many villagers work as a fisherman. It is even possible to join them fishing in the sea and riding their boat. When it comes to architecture, the houses appear traditional and simple. The village is surrounded by different types of plants, as well. That means the atmosphere is quite natural and relaxing.
Exploring the Village
As mentioned before, Tanimbar Village has two areas. In order to reach Kampung Atas, tourists need to climb nature stairs with the height of 15 meters. Once they reach the location, they might enjoy numerous types of arts and cultures. These include local architecture, ancient belief, and local traditions. The most popular one is called Tate'e, which is performed every single year. The locals conduct Tate'e with the hope of abundant crops and fishes. For tourists, such tradition is both interesting and educative. Due to this reason, a camera is a great item to capture all moments during such performance.
It is true Kampung Atas / Ohoratan is popular for its culture, but tourists can also enjoy other parts of Tanimbar Village. For example, there is Kampung Bawah / Mun. In this area, tourists would find a more modern way of living. It is because the people living in this location are more open to changes and modern influences. The problem is this area is not as popular as Ohoratan, as there are no traditional houses at all. On the other hand, Ohoratan features more traditions and traditional houses (Malinankot).
At least, there are 19 traditional houses in Tanimbar Village and all of them are located in Ohoratan (Kampung Atas). The locals take advantage of those houses to store sacred items of the tribe. In the same location, they often perform local ceremonies and sacrifices. Even though photography is possible, tourists should get permission from the locals. The purpose is to respect the sacredness of the local culture, so visitors should never carelessly take pictures there.
Nearby Attractions
Utir Island
Ur Island
Ngurtafur Beach
How to Get There
From Langgur City, travelers should head to Tual Port and take a ferry to Tanimbar Island. This voyage may take about 3-4 hours, depending on the weather. Once they reach the island, it is time to reach Tanimbar Village using a local transportation service. The thing is visitors won't find any accommodations and facilities, so villagers' houses are the only option to stay.
Where to Stay