Johannes Aerts Pilgrimage Park in Langgur City, Southeast Maluku Regency
---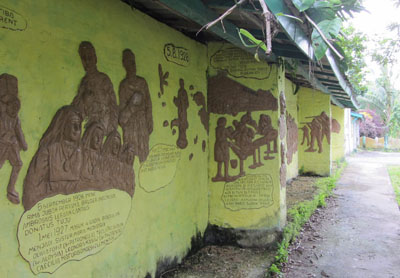 Just because Southeast Maluku Regency is famous for its nature tourism, doesn't mean travelers have limited options of tourist spots. It is because such region also has some serene pilgrimage vacation destinations. For example, there is Johannes Aerts Pilgrimage Park, which is located near to Langgur City. As the name suggests, it is the place to recall the sacrifice of Johannes Aerts and other pastors of Catholic Church in Langgur. These people were the victim of the Japan's brutality during the World War II. Today, the park becomes a tourist spot and a place where tourists can learn the history of those martyrs.
The Nuance
The park is not quite big, but it features a serene nuance. There is a building in that park, where visitors can sit and pray. Near to this structure, there is a state of Jesus. On the ground, there are several park lamps. These may illuminate the statue at night, showing a mesmerizing feature of such holy figure. The park is surrounded by walls, so it is considered a secluded pilgrimage state. That means the visitors can enjoy the peaceful ambiance, while either praying or sightseeing in the park.
Exploring Johannes Aerts Pilgrimage Park
What can people do in there? The most common thing to do is to learn the history of the martyrs. There is even a craving, telling how Catholic Church entered Kei Islands in 1889. Apart from that, visitors can learn such history from the locals. When it comes to the best time to visit the park, it is during any important Catholic holidays, especially Easter. It is because more people may come to the park and the keepers would work more passionately in serving the guests.
The park was named after a man named Johannes Aerts. He was born in Dutch, actually. Johannes was a famous bishop with many followers and he had built many buildings like Catholic schools, TMM, hospitals, and much more. Due to his popularity, he gained more followers, both locals and foreigners. Being aware of the Johannes influence of that man, the Japanese Army decided to kill him. At that time, Kei was under the reign of Japanese's Sergeant (Taro Horiba). Johannes was killed along with 12 pastors and 10 nuns. It was in 1942.
Most of the visitors are Catholics. They come to the park to give a prayer to the God and the martyrs. Not to mention they want to learn a bit about the history of Catholic Church and Johannes Aerts Bishop. Even though tourists aren't recommended to carry a camera, spending a holiday in that park is a good idea. The atmosphere is serene and the people won't make any noises there.
Nearby Attractions
Tual City
Lodar El Square
Pasir Panjang Beach
How to Get There
As mentioned before, Johannes Aerts Park is located near to Langgur City. From Jakarta, travelers need to take an airplane to Dumatubin Airport (Langgur). The trip takes about 7-8 hours. From there, it takes only a few minutes to reach the park using a taxi or minibus.
Where to Stay
Matahari Losmen
Langgur Inn
Dragon Inn