Tanimbar Island in Southeast Maluku Regency, Maluku Province
---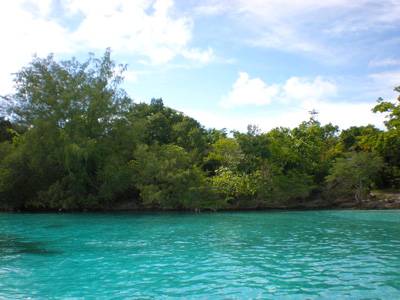 Tanimbar Island is part of Kei Archipelago and it belongs to Southeast Maluku Regency. Well, the locals call it Tnebar Evav and it has the width of 10 km2. Despite its secluded location, the island has more than 500 inhabitants and most of them live in Ohoratan Village. This local settlement becomes the main attraction of the island, as it offers unique culture and traditions. Not to mention tourists can learn the history of the Tanimbar Island and witness local activities. Some parts of the island also offer mesmerizing nature scenery!
The Nuance
Once you get to Tanimbar Island, the locals would greet you warmly. It is because they are quite friendly to tourists. Their houses are quite traditional and located in the midst of wild nature. That means you may expect lots of trees and some animals. The houses are made of woods and they look old. Despite this condition, such kind of settlement appears unique and attractive. Not to mention there are some churches, which are surrounded by trees and nature attractions. What's next? Another important feature of the island is Saumlaki Port, which becomes the primary checkpoint for exploration.
Exploring Tanimbar Island
Tanimbar Island is suitable for any travelers who love traditional cultures. This explains why Ohoratan Village becomes the most favorite tourist spot in Tanimbar. The locals call it "Kampung Atas" and it holds numerous historical heritages of the Dutch Colonialism. For example, you may find some old VOC's cannons. These items appear unique and majestic, so you should take some pictures of them. Once you explore Ohoratan, it is time to visit its neighboring village called "Kampung Bawah". Most of the villagers who live in such settlement are incomers, actually. That means they have been influenced by a modern culture.
Unlike "Kampung Bawah", people of Ohoratan retain their traditions well. For example, they may conduct a traditional ritual each year for abundant crops and fishes. This tradition is called Tate'e and tourists are allowed to witness the procession. The thing is you need to climb steep stairs in order to reach the village and the height is about 15 meters. Despite the tiring trip, you would be astonished by Ohoratan's architecture, arts, and local traditions. Overall, it is worth it.
Another thing to do in Tanimbar Island is to try local foods. Both Kampung Atas and Kampung Bawah offer great foods to tourists, so you must try them all. Some of them are Embal, Lad, Asar Fish, Sirsir, and Langar Snack. If you get lucky, the locals would teach you how to make those foods.
Nearby Attractions
Utir Island
Kai Kecil Island
Sinar Kasih Church
Ohorotan Village
How to Get There
Your first destination is Langgur City, which is located in Kei Kecil Island. From there, you can take a ferry to first checkpoint – Utir Island. Once you reach Utir, your last destination will be Tanimbar Island. This is a long and tiring trip, but it won't disappoint you. Once you get to Tanimbar, there are many things you can do. These include getting closer to the locals, sightseeing, and enjoying the nature.
Where to Stay
No Hotels. You need to talk to villagers, so they may let you spending the night in their house