A Piece of Heaven in Maluku Province
---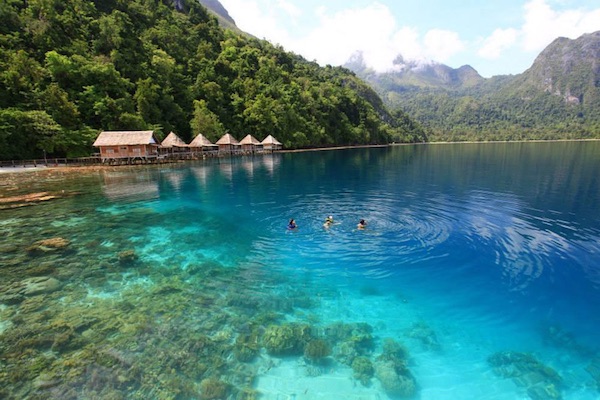 A charming beach lies in Center Maluku Province, which is called Ora Beach. It represents the unspoiled nature of the region and it becomes a top vacation spot for travelers. The beach is located in Center Maluku Province and it shares the same beauty as Philippine's Boracay and Pacific Ocean's Bora-Bora! Some people even say it is more beautiful than those twos. Due to its elegance, tourists choose it as a background of their wedding session. They also consider it a perfect location to relax and eradicate stresses.
The Nuance
Ora Beach becomes a primary tourist spot in Center Maluku Province since it has a complete list of nature attractions. First, it is the atmosphere of the beach. Once you get to Ora Beach, the freshness of nature may hit you right away. It is because the beach is located in a mountainous area, covered by trees and bushes. The crystal clear water appears stunning and clear, so you can see the fishes and coral reefs plainly. In the shoreline, there are several cottages, on which tourists can relax. This facility belongs to the nearby resort, actually.
Exploring Ora Beach
The location is in Salesman Village and it is reachable from different locations. Apart from an easy accessibility, the beach is quite picture-postcard! Once you get to the beach, you might see serene green hills in the horizon. Such jaw-dropping scenery is part of Manusela National Park, actually. That means visitors have the freedom to take pictures of such scenery. If this can't please you, there is another option to enjoy the beauty of Ora Beach. It is the adventure in the undersea like snorkeling and diving.
The nautical beauty of Ora Beach is undisputed, as you can find beautiful corals and colorful fishes. Due to the clear seawater, you can even witness those beauty objects from the boat. It is true you can't refuse the tempting to get in the water. Even though tourists have the freedom in exploring the sea, it is important to take care of the environment. It is because some corals are fragile, so they break easily due to the divers' activity. Have no worries. Some locals might give you an instruction beforehand, so you can avoid damaging the corals and fishes.
Once you explore the sea, it is time to enjoy good times in the evening. As long as you come during a good weather, you can enjoy romantic and stunning views at night. In this case, the best spot to witness such scenery is in the pier and Ora Beach Resort. It also becomes an opportunity to get along well with other tourists. As an alternative, you can enjoy such romantic views with your spouse or lovers!
Nearby Attractions
Sawai Village
Amsterdam Fort
Manusela National Park
How to Get There
The simplest way to reach Ora Beach is by airplane. The destination is Pattimura Airport, which is located in Ambon. Once you have arrived at Central Maluku, it is time to reach Sawai Village. You can take a taxi from the airport, actually. The fact is that Ora Beach is located in such settlement and it belongs to Seram Regency. The trip may take longer for those who come from Jakarta, actually.
Where to Stay