Ngurtafur Beach in Kei Islands, Southeast Maluku Regency
---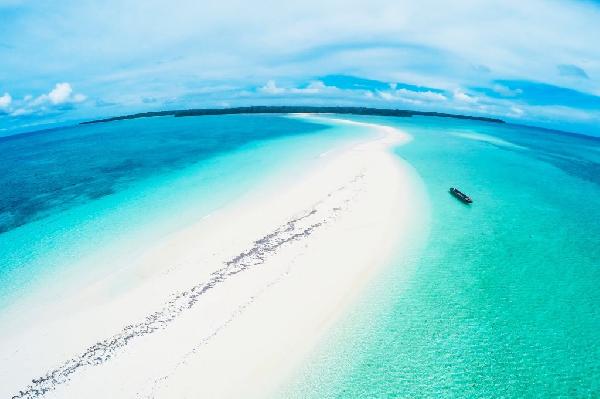 Kei Archipelago is part of Southeast Maluku Regency and it belongs to Maluku Province. What makes it special? Many parts of the islands offer beautiful beaches and one of them located in Warbal Island. The name is Ngurtafur Beach, actually. Travelers recognize it as an exotic beach with numerous attractions. For example, there is a nature sand carpet separating two seawaters and that is the most favorite location among tourists for beach walking. Not to mention the atmosphere is quite seducing, so visitors are likely to spend hours there!
The Nuance
The length of the beach is about 2 km and the width is 7 meters. As mentioned before, the main feature of Ngurtafur Beach is the unique sand carpet. The white colored sand and gusty wind become a perfect combination there. No wonder, that is the most visited part of the beach, on which tourists can explore and relax on it. It feels like a Moses, who separate two seas and walk in midst of it! Apart from this feature, some pelicans also often come to this coastal area for relaxing and eating.
Exploring Ngurtafur Beach
Tourists can do many things in Ngurtafur Beach and one of them is to witness sea creatures. For example, there are some leatherback sea turtles. The locals call them "Penyu Belimbing" or Tabob. The WWF has included it in the list of rare species, in fact. That means tourists are not allowed to do any harms to these animals. On the other hand, it is allowed to take some pictures of them. Their size is enormous, as they are considered the biggest one among other species of sea turtles!
Apart from leatherback sea turtles, you can also see many pelicans in Ngurtafur Beach. These birds migrate from Australia to Maluku and choose such beach to be their habitat. Due to this reason, many visitors have a motive to come to the beach. Witnessing wild animals in a beautiful environment is a distinct experience, which makes a wonderful holiday. As for the tip, any tourists should carry a camera. This item is able to capture any beautiful moments and objects on the beach, including those majestic animals.
Ngurtafur Beach is not only the place to witness sea creatures, but it also offers stunning and lush nature. For instance, the beach features shady trees and some bushes. Not to mention the water is clear and comfortable. On top of that, the waves are not quite strong, which makes it comfortable for snorkeling and diving. Still, the best time to snorkel is between May and October as the waves are the calmest during those times!
Nearby Attractions
Ngurbloat Beach
Ngursamadan Beach
Kei Kecil Island
How to Get There
From Jakarta, your destination is Langgur City in Kei Islands. In this case, you might ride an airplane and the destination is Dumatubin Airport. From Langgur, take a local vehicle to a nearby port and use a ferry to Warbal (Woha) Island. Despite the long trip, you won't regret visiting Ngurtafur Beach. Not to mention there is the chance to explore other tourist spots, which are scattered around Kei Islands.
Where to Stay
Evalin Homestay
Philips Homestay
Coaster Cottage