Kei Tribe of Kei Archipelago, Southeast Maluku Regency
---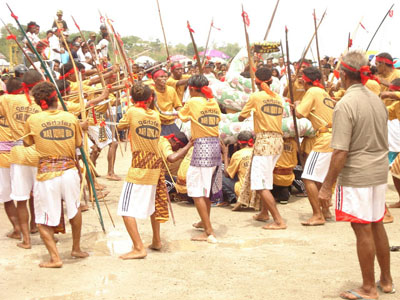 Travelers have different motives when it comes to visiting Indonesia. One of them is to learn some local culture and tribes. In Southeast Maluku Regency, there is a local tribe called Kei. As the name suggests, they live in Kei Archipelago and have some unique traditions. No wonder, many tourists keep coming to Kei Islands for learning and enjoying those culture attractions. Not to mention Kei Tribe has an interesting history, which is quite valuable. Overall, tourists won't regret visiting different villages in Kei Islands.
The Appearances
When it is about Kei Tribe, their physical appearances are similar to that of Papua Tribe. However, the current generation has a smaller body and softer hair. For those who want to see the original appearance of Kei Tribe, there are some old pictures kept by the elderly. Those photographs show both the physical features and clothes of the locals. The thing is it takes an effort to be able to see those pictures. Have no worries. With the help of a tour guide, tourists can talk to the locals easily and have an opportunity to see the photos.
Learning Kei Tribe's History
The best locations to meet Kei Tribe are Toyandu Island and Walir Island. However, there are alternatives like Nuhucut and Kaidullah Island. Some of these people also live in Tanimbar Island, but it takes a long voyage to reach such location. According to the locals, Kei means "tough". Perhaps it is because of the existence of numerous types of hard rocks and woods, which are scattered all over Kei Archipelago. Not to mention the islands hold stunning tourist spots, so visitors have an opportunity to explore them all.
The next thing to know about Kei Tribe is their daily routines. In this case, tourists can learn and observe the way of living of Kei People, which is farming. These people cultivate numerous types of crops like nuts, paddy, and cassava. Also, they often go to the sea for fishing. No wonder, some of their houses are located near to the sea. Not to mention they park their local boats near to their settlement. With all these features, tourists won't be bored witnessing local activities.
Another interesting thing about Kei Tribe is their traditions. The most famous one is called Sasi. It is a kind of act to protect or retain the nature. That means the locals won't do any harm things to nature, including fishing and farming. This kind of tradition lasts for 6 months, so the locals only survive with their current food supply. For tourists, such kind of tradition is considered unique and attractive. They also get impressed by how the locals pay attention to nature.
Nearby Attractions
Ngurbloat Beach
Lodar El Square
Hawang Cave
How to Get There
From Jakarta, travelers need to reach Kei Archipelago and the destination is Dumatubin Airport, which is located in Langgur City. From there, it is time to visit any nearby village using a taxi or local transportation service. There is an option to visit Tanimbar Village, but it takes a longer trip.
Where to Stay
Asnolia Hotel
Langgur Inn
Aurelia Hotel

Latest News
The Martha Christina Tiahahu Monument is located in the Karang Panjang area, about 10 minutes from downtown Ambon. Because the location of the monument is at elevation, the tourists can watch the sparkling expanse of Ambon City glittering at night. From this place, the high seas can be seen clearly. We can see the view of Ambon City. This location is usually used as an alternative place to enjoy the relaxed atmosphere, especially young people who want to enjoy the view of Ambon City. Historically, Martha Christina Tiahahu grew up…
---
Benteng Belgica or Belgica Fort is a heritage fortress from Portuguese that been built in Bandaneira, Maluku Tengah. Bandaneira is a small town that also a heritage city from Portuguese and Duch colonization. This city became important city for Dutch and Portuguese since it produce some of important spices. Since Bandaneira was the center of trading, then the building of fortress is need to be built. This fortress was also play the role as a prison and the place for keeping the gun. At early begin, Belgica was named as…
---
Beaches in Ambon are known well for their beauty. The visitors are not as crown as those who come to pulau Bali or Lombok, but that makes beaches in Kota Ambon still in original and natural condition. One of the favorites is Hunimua Beach. Though the facilities are yet not complete. This beach is also known as Liang Beach for it's located in Liang village, Salahutu sub-district, Central Maluku district, Maluku Province. UN has stated this beach as the most beautiful beach in Indonesia in 1990, and always been target…
---
Village of Sawai, Maluku, is one of destinations in the Manusela National Park. The waters are calm and clean. This tourism village has the same beauty with other islands in Indonesia. This village is famous for its beaches and sea. Most of the sea in the this village is still natural and well preserved. Sawai village is including the oldest villages in Maluku and it has several small islands surrounding it. These islands are also adds to the beauty of the Sea of ??Sawai. What is unique of this village…
---