Ohoi Hoko Waterfall in Kei Besar Island, Southeast Maluku Province
---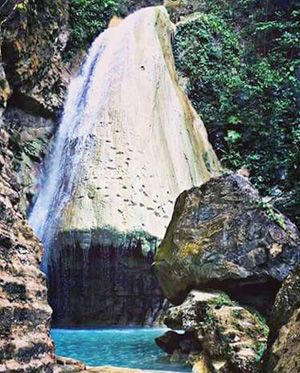 Hoko is one of the villages, which is situated in Kei Besar Island. It also becomes the home of a wondrous tourist spot called Ohoi Hoko Waterfall. With a simple trekking to the waterfall, tourists can reach such beautiful falls and enjoy its beauty. Not only the waterfall offers nature beauty, but it also emits a serene atmosphere. Not to mention the sound of gurgling water is quite mesmerizing. Another good thing about the waterfall is the number of visitors. Not many people come to this location, so the nuance is definitely peaceful. It feels like spending a holiday in private falls!
The Nuance
In terms of size, Hoko Waterfall is not quite tall. Though, the water flows simultaneously and beautifully. Nature pond is located under the falls, on which visitors can swim. In fact, it becomes the prime attraction of the fall. Such fresh and crystal clear water are indeed rejuvenating, so everyone is able to replenish their stamina right away. Another feature is the rocks, which are scattered near to the pond. Usually, tourists would jump from those rocks into the water. It is quite safe, after all.
Exploring Ohoi Hoko Waterfall
The sound of gurgling water is relaxing, and the weather is comfortable. Due to this reason, Hoko Waterfall is popular among those who want to enjoy nature beauty. Some people even come to this tourist spot for finding peace! Regardless of the purpose in visiting the falls, visitors must know several things. For example, it is related to the condition of the land. In the rainy season, some parts of the location are slippery and it becomes dangerous. Not to mention the pond and water will be more extreme, so swimming is not recommended during such time.
When exploring Ohoi Hoko Waterfall, it is true weather becomes the primary consideration. However, there are other tips like carrying extra clothes. Almost all visitors come to Hoko Waterfall to get in the water and play in the rejuvenating pond. It is likely everyone would wet their clothes, so carrying some extras becomes common sense. Here is the thing. Since there is no nearby toilet, tourists might change clothes in the midst of nature.
Next, it is related to the wild animals. Even though Hoko Village is considered a safe settlement, there is a chance meeting wild creatures like "kucing hutan" and hornets. As long as tourists pay attention to their surroundings, it is safe to explore the falls. Another tip is the best time visiting Hoko Waterfall, which is in the morning. It is because the temperature is refreshing and the nuance is foggy. Isn't that great?
Nearby Attractions
Kei Kecil Island
Ramadan Island
Duroa Island
Ad Waterfall
Weer Waterfall
How to Get There
As mentioned before, such beautiful waterfall is located in Hoko Village. It belongs to Kei Besar Island, in fact. In order to reach the location, travelers should head to Kei Kecil Island and the prime destination is Langgur City. Next, it is Tual City and it is the spot to ride a ferry and head to Kai Besar Island. Lastly, travelers only need to head to Hoko Village.
Where to Stay
There are only nearby hotels in Kei Kecil islands

Latest News
The Martha Christina Tiahahu Monument is located in the Karang Panjang area, about 10 minutes from downtown Ambon. Because the location of the monument is at elevation, the tourists can watch the sparkling expanse of Ambon City glittering at night. From this place, the high seas can be seen clearly. We can see the view of Ambon City. This location is usually used as an alternative place to enjoy the relaxed atmosphere, especially young people who want to enjoy the view of Ambon City. Historically, Martha Christina Tiahahu grew up…
---
Benteng Belgica or Belgica Fort is a heritage fortress from Portuguese that been built in Bandaneira, Maluku Tengah. Bandaneira is a small town that also a heritage city from Portuguese and Duch colonization. This city became important city for Dutch and Portuguese since it produce some of important spices. Since Bandaneira was the center of trading, then the building of fortress is need to be built. This fortress was also play the role as a prison and the place for keeping the gun. At early begin, Belgica was named as…
---
Beaches in Ambon are known well for their beauty. The visitors are not as crown as those who come to pulau Bali or Lombok, but that makes beaches in Kota Ambon still in original and natural condition. One of the favorites is Hunimua Beach. Though the facilities are yet not complete. This beach is also known as Liang Beach for it's located in Liang village, Salahutu sub-district, Central Maluku district, Maluku Province. UN has stated this beach as the most beautiful beach in Indonesia in 1990, and always been target…
---
Village of Sawai, Maluku, is one of destinations in the Manusela National Park. The waters are calm and clean. This tourism village has the same beauty with other islands in Indonesia. This village is famous for its beaches and sea. Most of the sea in the this village is still natural and well preserved. Sawai village is including the oldest villages in Maluku and it has several small islands surrounding it. These islands are also adds to the beauty of the Sea of ??Sawai. What is unique of this village…
---