Exploring Pelicans in Ngurtafur Beach, Southeast Maluku Regency
---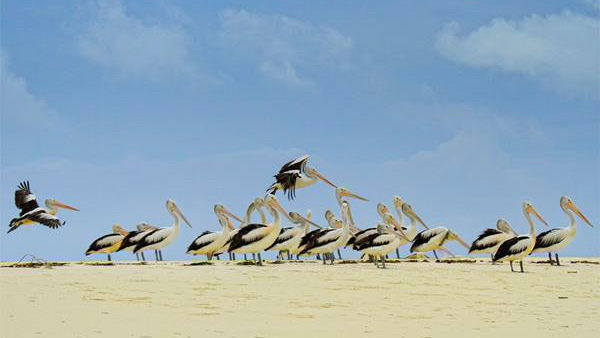 There are many ways to enjoy a wonderful holiday and one of them is to visit beautiful beaches. In Southeast Maluku Regency, you might find a good spot called Pasir Timbul Beach. The other name is Ngurtafur, actually. Apart from being a stunning coastal area, the beach also offers a distinct attraction – the habitat of pelicans. These unique birds often gather on the beach for feeding, so tourists are able to interact with them comfortably. Not to mention there is an opportunity for taking pictures with these magnificent creatures.
The Nuance
The name Pasir Timbul derives from the sand carpet, which separates two seawaters. Tourists are allowed to walk on it, as it is quite safe. From this area, the flocks of pelicans are seen! They fly around and walk on the shorelines beautifully. Apart from the sand carpet and pelicans, the beach features a stunning sea. The water has the color of light blue and there are no flaws at all. A perfect nuance, which is surrounded by sea creatures, never disappoints you for sure. It is likely the beach becomes photographers' heaven!
Exploring Ngurtafur Beach
It is true tourists have different reasons in visiting Ngurtafur or Pasir Timbul Beach. However, the best thing to do is to witness pelicans. The reason is the beach becomes a new habitat of those birds. They come to Maluku from Australia either for breeding or feeding. Some of them might fly around the beach when the others walk on the shorelines comfortably. Not to mention there are some pelicans relaxing on the sand dunes. Due to their presence, the beach becomes merrier and livelier and tourists are able to interact with them.
In terms of number, there are about a hundred of pelicans in Pasir Timbul Beach. They usually come to Ngurtafur Beach during a migration season (summer). The thing is these Australian Pelicans won't be in such beach forever, as they may fly to other locations over time. Therefore, it is better to learn the schedule first before visiting the beach. At least, you need to take advantage of the locals regarding the best time to meet those birds.
In a nutshell, Ngurtafur Beach is a suitable place for passionate birdwatchers. Thanks to the environment. Many pelicans come to the beach due to comfortable sand and good atmosphere, so they can relax wholeheartedly before continuing their migration. Now that's a great chance to capture some photos and interact with them. It is even possible to get near to these wild birds and to touch them. Be careful with their beak, though!
Nearby Attractions
Ngurbloat Beach
Ngursamadan Beach
Kei Kecil Island
How to Get There
First things first, you need to head to Langgur City. For those who come from Jakarta, it is better to use an airplane and the destination is Dumatubun Airport. Next, it is time to reach a nearby port and ride a ferry to Woha Island. From there, you can use any local transportation service to the beach, which is your final destination. Have no worries. The trip only takes 30-45 minutes.
Where to Stay
Evalin Homestay
Philips Homestay
Coaster Cottage

Latest News
The Martha Christina Tiahahu Monument is located in the Karang Panjang area, about 10 minutes from downtown Ambon. Because the location of the monument is at elevation, the tourists can watch the sparkling expanse of Ambon City glittering at night. From this place, the high seas can be seen clearly. We can see the view of Ambon City. This location is usually used as an alternative place to enjoy the relaxed atmosphere, especially young people who want to enjoy the view of Ambon City. Historically, Martha Christina Tiahahu grew up…
---
Benteng Belgica or Belgica Fort is a heritage fortress from Portuguese that been built in Bandaneira, Maluku Tengah. Bandaneira is a small town that also a heritage city from Portuguese and Duch colonization. This city became important city for Dutch and Portuguese since it produce some of important spices. Since Bandaneira was the center of trading, then the building of fortress is need to be built. This fortress was also play the role as a prison and the place for keeping the gun. At early begin, Belgica was named as…
---
Beaches in Ambon are known well for their beauty. The visitors are not as crown as those who come to pulau Bali or Lombok, but that makes beaches in Kota Ambon still in original and natural condition. One of the favorites is Hunimua Beach. Though the facilities are yet not complete. This beach is also known as Liang Beach for it's located in Liang village, Salahutu sub-district, Central Maluku district, Maluku Province. UN has stated this beach as the most beautiful beach in Indonesia in 1990, and always been target…
---
Village of Sawai, Maluku, is one of destinations in the Manusela National Park. The waters are calm and clean. This tourism village has the same beauty with other islands in Indonesia. This village is famous for its beaches and sea. Most of the sea in the this village is still natural and well preserved. Sawai village is including the oldest villages in Maluku and it has several small islands surrounding it. These islands are also adds to the beauty of the Sea of ??Sawai. What is unique of this village…
---