Taam Island in Southeast Maluku Regency, Maluku Province
---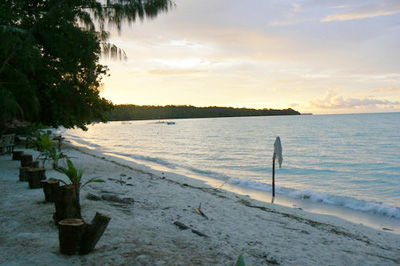 Kei Archipelago consists of many islands, including Taam Island. Taam is the southernmost island of Kei, so it seems secluded and uninhabited. However, it has many attractions for tourists including shallow beaches, white sandy coastal areas, lush forested hills, and coral reefs. That means Taam Island is a perfect destination for a vacation retreat, where tourists can eradicate stresses at once. Some people even consider Taam as a place for finding peace, as they want to escape from a hectic city life. This explains why many Jakarta people visit this island.
Nuance
As mentioned earlier, Taam Island consists of many types of nature attractions. The beaches are the most popular destination, as they feature beautiful white sand and many fishermen's houses. The sea is calm as if it lures visitors to get in the water. Also, you may see some local boats passing by. If you get lucky, you are able to ride on one of those boats! What's next? Near to the local settlement, you may see shady trees and numerous plants. Some animals are also seen there.
Exploring Taam Island
Tourists have many things to do in Taam Island. For example, it is visiting the fishermen's settlement near to the beach. The locals live near to the coastal area since it is easier to reach the sea and catch fishes. That means you may expect some traditional houses and boats near to the beach. It is even possible to join the fishermen looking for fishes in the sea, as long as you can communicate with him well. In some cases, you might need the help of a tour guide or a local interpreter.
Apart from such fishermen's village, Taam Island offers some good spots for snorkeling and diving. The visibility is good and the sea features majestic coral reefs, after all. For those who don't like water sports, beach walking can be an option. It is because the sand is quite soft and the atmosphere is gusty. You can even walk on the beach without any footwear. Thanks to the soft texture of the sand.
Now, it is time to explore the specialties of the locals. Some villagers would offer visitors dried yellow eggs with cheap prices! These are worthy commodities, so you should never miss them. Another unique specialty is the traditional pottery. In terms of shape and characteristics, it is similar to that of Bandanese. All of those items are authentic and valuable, so those can be the best souvenirs despite their fragile condition.
Nearby Attractions
Walir Island
Tajondu Island
Utir Island
How to Get There
From Jakarta, you need to head to Kei Kecil Island first. In this case, your destination will be Damatubun Airport in Langgur City. From there, take a local transportation service to nearby port and head to Tajondu Island using a ferry. The next checkpoint is Walir Island and you still use a similar transportation option. This brings you to the last destination, which is Taam Island.
Where to Stay
No hotels, so you have an option to rent a room in a villager's house

Latest News
The Martha Christina Tiahahu Monument is located in the Karang Panjang area, about 10 minutes from downtown Ambon. Because the location of the monument is at elevation, the tourists can watch the sparkling expanse of Ambon City glittering at night. From this place, the high seas can be seen clearly. We can see the view of Ambon City. This location is usually used as an alternative place to enjoy the relaxed atmosphere, especially young people who want to enjoy the view of Ambon City. Historically, Martha Christina Tiahahu grew up…
---
Benteng Belgica or Belgica Fort is a heritage fortress from Portuguese that been built in Bandaneira, Maluku Tengah. Bandaneira is a small town that also a heritage city from Portuguese and Duch colonization. This city became important city for Dutch and Portuguese since it produce some of important spices. Since Bandaneira was the center of trading, then the building of fortress is need to be built. This fortress was also play the role as a prison and the place for keeping the gun. At early begin, Belgica was named as…
---
Beaches in Ambon are known well for their beauty. The visitors are not as crown as those who come to pulau Bali or Lombok, but that makes beaches in Kota Ambon still in original and natural condition. One of the favorites is Hunimua Beach. Though the facilities are yet not complete. This beach is also known as Liang Beach for it's located in Liang village, Salahutu sub-district, Central Maluku district, Maluku Province. UN has stated this beach as the most beautiful beach in Indonesia in 1990, and always been target…
---
Village of Sawai, Maluku, is one of destinations in the Manusela National Park. The waters are calm and clean. This tourism village has the same beauty with other islands in Indonesia. This village is famous for its beaches and sea. Most of the sea in the this village is still natural and well preserved. Sawai village is including the oldest villages in Maluku and it has several small islands surrounding it. These islands are also adds to the beauty of the Sea of ??Sawai. What is unique of this village…
---