Ngodan Island in Southeast Maluku Regency, Maluku Province
---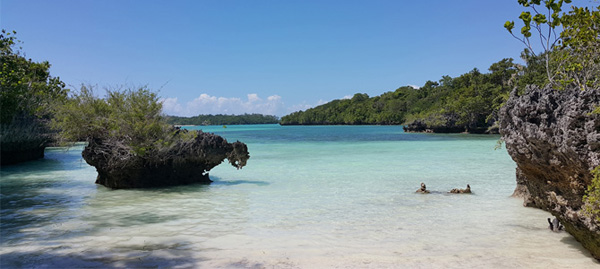 Visiting an uninhabited island is quite interesting, as it gives an opportunity to enjoy a peaceful nuance. Here is a reference. The name is Ngodan Island and it is located in Southeast Maluku Regency. To be exact, it is located in the east part of Kei Kecil Island. Ngodam is known as one of the destinations for island hopping, including Er and Ngav Island. Apart from that, the island is famous for its beautiful corals. That means tourists can find good spots for snorkeling, especially in the coastal area.
The Nuance
Ngodan Island is quite peaceful, as no people live there. Only some locals come to the island for fishing and exploration. As for tourists, the island becomes a good place to spend holidays. It features crystal clear beaches and majestic coral reefs. Not to mention it is surrounded by shady trees and bushes. The color of seawater is blue and it is considered shallow. Sometimes, people of Maluku are seen riding their boat in the shorelines. They go fishing using a spear! Such kind of fish hunting indeed may attract tourists' attention.
Exploring Ngodan Island
Before going an island hopping, travelers should have eaten their breakfast in Ohoidertawun Village. It doesn't matter which island to visit first, but Ngodan should be on the list. When it comes to the best tourist activity, it is definitely snorkeling. Such fun activity should be done either in the morning or at noon when the weather is nice and the sea visibility is good. In the afternoon, it is time to get back to the hotel or Kei Island for dinner or resting.
For beginners, visiting Ngodan Island would be a new experience, and it requires some preparation. At least, travelers should know the location, so it is important to get a map beforehand. As an alternative, visitors can come with the help of a tour guide. This person may help any tourists to get to the island safely and explore nearby tourist spots. Despite the price, it is quite a worthy service. Even there is a tour package for island hopping, so everyone should take advantage of it.
Another precaution is related to the date or time. Travelers should pick the right time when visiting Ngodan Island. An island hopping is suitable in summer, as the weather is nice and the rainfall is low. Otherwise, tourists won't be able to explore the island and its beaches in comfort. The rain is travelers' enemy, so it is better not to come during the rainy season.
Nearby Attractions
Kei Kecil Island
Er Island
Ohoidertawun Village
How to Get There
The first destination is Langgur City, and it is located in Kei Kecil Island. For those coming by airplane, the prime terminus is Dumatubin Airport. From there, take a local transportation service to Dertawun Village and head to Ngidun Port. From this port, travelers should take a ferry to Ngodon Island. Here is the thing. No accommodations are available in Ngodan, so tourists must have rented a room in Kei Kecil Island.
Where to Stay
Ohoiview Island Resort
Savanna Cottages
Asnolia Hotel