Kepala Tujuh Cave in Tayando Island, Southeast Maluku Regency
---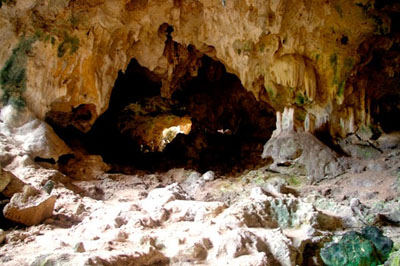 Passionate travelers are always looking for new locations to visit. In this case, Southeast Sulawesi Regency offers many unique tourist spots and one of them is Kepala Tujuh Cave. The location is Yamtel Village and it belongs to Tayando Island. The cave is famous for its history and unique landscape, so visitors can take many benefits from it. Mostly, the visitors are historians and regular tourists. In fact, some foreigners are also seen visiting the cave. Overall, it is a worthy vacation destination for everyone.
The Nuance
Unlike other caves, Kepala Tujuh has a unique cave mouth. The size of the mouth of the cave is tall and unique, and it is located between two cliffs and surrounded by several plants. In the cave, the nuance is a little bit thrilling and dark. Not all tourists love being inside, after all. However, this will make a wonderful experience, so everyone should take advantage of it. Not to mention it is possible to explore the cave further with a flashlight. A help of a tour guide is also considered, actually.
Exploring Kepala Tujuh Cave
Before reaching Yamtel Village, most tourists would like to learn a bit history about the cave. According to the locals, the cave was the inheritance of the ancestors. People who live in Yamtel Village believe it as the place, where their ancestors live back then. Due to many developments, those people created a new settlement for a living (Yamtel). Today, the cave remains as the symbol of history among the villagers. Also, it keeps attracting more tourists over time. That means it also becomes a recommended tourist spot in Kei Islands.
As the name suggests, Kepala Tujuh Cave becomes the home of 7 sacred skulls. The locals call them Henyar Emas and they consider them sacred and powerful. For tourists, the existence of those skulls is indeed quite tempting. In fact, the number of those things often changes mysteriously. No one can explain such mystical phenomenon, in fact. Sometimes, the skulls either decrease or increase in number. Many people say it is caused by the activity of mystical creature living in the cave. Due to this reason, the locals consider Kepala Tujuh Cave as a sacred site.
Due to its sacredness, no visitors are allowed to act and speak carelessly when exploring the cave. It is because the locals give lots of respect to this place, so any tourists should do the same. Not to mention it requires a ritual before exploring the cave. Only the head of Yamtel Village is allowed to perform such ritual, actually. Thus, tourists must talk to the locals first before entering the cave. It is a prime requirement and everyone should obey it.
Nearby Attractions
Walir Island
Tajando Island
Tam Island
How to Get There
From Jakarta, tourists can take an airplane to Langgur City. The destination is Dumatubin Airport, which is located in Kei Kecil Island. From there, take a local transportation service to Tual Port. In such checkpoint, travelers can either ride a speedboat or a ferry in reaching Tam Island. A speedboat is a faster choice, which only takes 2.5 hours to reach the location. Once reaching Tam Island, the last destination is Yamtel Settlement.
Where to Stay
No hotels, so tourists can sleep in a villager's house