Visiting Secluded Ngav Island in Southeast Maluku Regency
---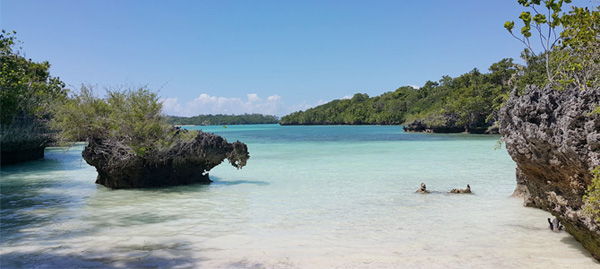 Located in the east part of Kei Kecil Island, Ngav becomes a tempting vacation spot in Southeast Maluku Regency. This small island is also located near to other small islands like Er and Godon. No wonder, most tourists come to such location for island hopping and water sports. Not to mention the island features a secluded atmosphere, so it is suitable for relaxation and retreating. The thing is visitors should cross the sea using a ferry prior to spending good times in such island. Despite accessibility issue, there is no reason not to drop by in Ngav Island!
The Nuance
In terms of size, Ngav is bigger than Er and Godon. It features many nature attractions like beaches, coral reefs, and hills. In the coasts, the white sand would astonish any visitors. Not to mention the shallow and calm seawater make it a perfect place for water sports. In fact, there are some good spots for snorkeling. Thus, the jaw-dropping underwater scenery never ceases to amaze divers, including stunning corals and nautical creatures like a group of blacktip sharks! Now, that's a real attraction.
Exploring Ngav Island
A vacation in Ngav Island is going to be an adventure, as tourists are able to explore nearby vacation destinations as well. At the first day, the prime destination will be Ngav. This is an important spot, on which tourists can go snorkeling and swimming. In fact, the island has stunning corals and fishes. Not to mention the visibility is excellent! Even beginners are able to enjoy snorkeling wholeheartedly. The thing is everyone should have eaten breakfast prior to getting in the water. This can be done in Ohoidertawun village, before crossing to Ngav.
In the next day, tourists can continue exploring Ngav and nearby Islands. As for reference, there are Ngodan, Er, and Nai Island. All of them offer a distinct nautical beauty, so visitors should never miss any of them. Snorkeling and swimming are two popular activities in those locations, after all. What's next? Before getting back to Ohoidertawun or Kei Island, it is better to take some pictures of the environment using a camera. All of the nature objects in Ngav Island are worth a capture, for sure.
At the end of the trip, it is time to enjoy dinner in Dullah. Some local eateries may satisfy any tourists' hunger, providing the best local specialties like Embal, Lad, Asar, Sirsir, and Langar Cake. As long as tourists have chosen the right tour package, it is possible to get the best amenities. These include transportation, foods, accommodations, life jackets, and snacks!
Nearby Attractions
Masbait Hill
Er Island
Godon Island
Luvat Cave
How to Get There
It takes a little bit effort to reach Ngav Island. From Langgur City, the first destination would be Ohoidertawun Village. Next, it is time to reach nearby port and ride a ferry to Ngav Island. For outsiders, the first destination would be Langgur City and it involves an airplane. That means the trip becomes longer and more tiring. Still, it is quite worthy.
Where to Stay
Savanna Cottages
Ohoi View Island Resort
Asnolia Hotel

Latest News
The Martha Christina Tiahahu Monument is located in the Karang Panjang area, about 10 minutes from downtown Ambon. Because the location of the monument is at elevation, the tourists can watch the sparkling expanse of Ambon City glittering at night. From this place, the high seas can be seen clearly. We can see the view of Ambon City. This location is usually used as an alternative place to enjoy the relaxed atmosphere, especially young people who want to enjoy the view of Ambon City. Historically, Martha Christina Tiahahu grew up…
---
Benteng Belgica or Belgica Fort is a heritage fortress from Portuguese that been built in Bandaneira, Maluku Tengah. Bandaneira is a small town that also a heritage city from Portuguese and Duch colonization. This city became important city for Dutch and Portuguese since it produce some of important spices. Since Bandaneira was the center of trading, then the building of fortress is need to be built. This fortress was also play the role as a prison and the place for keeping the gun. At early begin, Belgica was named as…
---
Beaches in Ambon are known well for their beauty. The visitors are not as crown as those who come to pulau Bali or Lombok, but that makes beaches in Kota Ambon still in original and natural condition. One of the favorites is Hunimua Beach. Though the facilities are yet not complete. This beach is also known as Liang Beach for it's located in Liang village, Salahutu sub-district, Central Maluku district, Maluku Province. UN has stated this beach as the most beautiful beach in Indonesia in 1990, and always been target…
---
Village of Sawai, Maluku, is one of destinations in the Manusela National Park. The waters are calm and clean. This tourism village has the same beauty with other islands in Indonesia. This village is famous for its beaches and sea. Most of the sea in the this village is still natural and well preserved. Sawai village is including the oldest villages in Maluku and it has several small islands surrounding it. These islands are also adds to the beauty of the Sea of ??Sawai. What is unique of this village…
---