The Serene Nuance of Er Island in Southeast Maluku Regency
---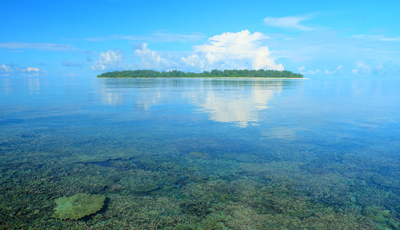 Despite its secluded location, Er Island offers a distinct attraction for tourists. The island is situated near to Godon Island and it becomes a good checkpoint for island hopping. Travelers even come to Er for relaxation and finding inspirations, since it features unspoiled nature and a peaceful atmosphere. It is true tourists should give an effort to reach the island, but it is worth it. All visitors will be rewarded with a flawless environment, on which they can relax on and explore in comfort.
The Nuance
The white sandy beach is the main feature of Er Island. In such coastal area, tourists can do many things like playing in the water or exploring the beach. The problem is some twigs are scattered in the coast, so it is better to wear proper footwear. Even sandals would be good! The next feature is the formation of pine trees. They look both majestic and comforting, as they grow abundantly near to the oceanfront. In the horizon, there is a view of a nearby island (Gondo). This breathtaking scenery is indeed uplifting!
Exploring Er Island
The combination of good water visibility and numerous nautical attractions makes a perfect spot for snorkeling. Now, that's a real benefit. Even though both beginners and experts can enjoy such activity in Er Island, everyone should know basic rules. For instance, it is related to the snorkeling gears. The prime rule is to prepare the right equipment prior to getting in the water. It is as simple as wearing the mask properly, which should fit the face. There should be no air leak at all. Otherwise, the water leaks too.
The mask is one thing, but there are other items to consider like the fins. Before entering the water, tourists should make sure their fins suit their feet. Those should not be either too tight or loose. It is the matter of comfort and safety, after all. Unfit fins would be quite uncomfortable, so snorkelers are not able to move swiftly in the water. What about the apparel? It can be anything, as long as it comfortable and swift.
Snorkeling in Er Island does require some skills, as these help everyone explore the water in comfort. The most basic skill is breathing, which helps improve the limit of exploration. With all these things in mind, tourists are able to enjoy snorkeling to the heart's content. At the end of the activity, it is time to visit Ohoidurwatun Village. It is the location to enjoy some good foods and drinks. The locals might serve spending cuisine for any tourists, after all.
Nearby Attractions
Masbait Hill
Ngav Island
Godon Island
Luvat Cave
How to Get There
Despite the long trip, visiting Er Island is worth an effort. First, take an airplane to Dumatubin Airport in Langgur City. From there, take a local transportation service to Ohoidertawun Village and nearby port. Next, ride a ferry to Er Island. Here is the thing. The whole trip won't take long for those who come from Langgur, but it takes much time for those who come from other provinces.
Where to Stay
Savanna Cottages
Ohoi View Island Resort
Asnolia Hotel