Adranan Island in Southeast Maluku Regency, Maluku Province
---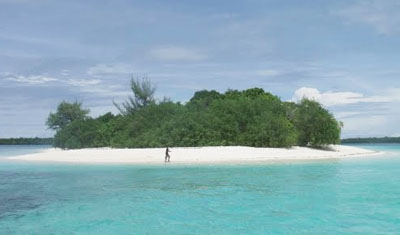 Visiting an uninhabited island is quite recommended for those who want to look for serenity. In this case, there is a recommended destination called Adranan Island and it is located in Southeast Maluku Regency. Also, it becomes a new pride of Tual City due to its popularity among travelers. To be exact, it is situated in North Dullah District and it takes about 10 minutes from Dullah Village using a motor boat. Today, tourists come to the island both for enjoying the serene nature and water sports – snorkeling, swimming, and diving.
The Nuance
The size of the island is about 500 m2 and it is covered by both white sand and pine trees. Despite the small size, Adranan offers a rejuvenating nuance and a peaceful atmosphere. The stunning white sand in the beach makes it more appealing, for sure. Not to mention the shady pine trees can be a perfect spot to avoid the heat of the sun. When it comes to the seawater, it is quite clear and calm. No wonder, visitors would likely to get in the water wholeheartedly.
Exploring Adranan Island
The best thing to do in Adranan Island is to enjoy the water sports, especially snorkeling. The formation of beautiful corals and cute fishes are quite astonishing. Not to mention the seawater is warm and comfortable. The current is not quite strong, so even beginners can enjoy good times when snorkeling. It doesn't have to be either diving or snorkeling, as tourists can simply enjoy swimming in the shoreline. The safe and calm waves won't be a burden for anyone, after all.
There is also a local event called "Mandi Safar", on which the locals come to the beach and take a bath in the seawater. The purpose is to eradicate bad lucks and obtain many blesses. Usually, these people come from Dullah Laut and nearby regions. For tourists, such tradition becomes an interesting activity to follow. In fact, everyone is allowed to join it! As long as visitors don't spoil the water, they are allowed to take part of the event.
The next thing to do in Adranan Island is to enjoy the white sand on the beach. People can do many things like building a sand castle, beach walking, playing balls, and others. It can be as simple as sitting near to the beach while enjoying sea scenery. For families, Adranan becomes a suitable vacation destination for bonding as well. Despite lacking accommodations, the island has lots of values and attractions. Not to mention the atmosphere is relaxing.
Nearby Attractions
Duroa Island
Ramadan Island
Ubur Island
How to Get There
In order to reach Adranan Island, travelers should pass through some checkpoints. The first destination is Langgur City, which is located in Kei Kecil Island. Next, it is Tual and head to Duroa Island using a ferry. The last destination is indeed Adranan Island and tourists can use the same transportation service as before. From Tual, the trip takes about 25 minutes. However, it only takes 10 minutes for those who come from Dullah Village.
Where to Stay
Available hotels are in Kei Kecil Island