Kei Archipelago in Southeast Maluku Regency, Maluku Province
---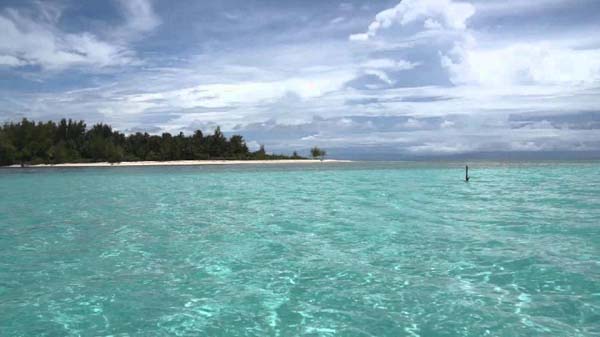 Indonesia is an archipelago country and even some of its provinces consist of small islands. For example, there is Maluku Province. It offers a beautiful formation of small islands, which is called Kei Archipelago. The location is in Southeast Maluku Regency and it lies between Seram, Arafuru, and the Banda Sea. Not to mention it consists of two major islands called Kei Besar and Kei Kecil. The big one is famous for its green hills and lush environment, while the small one is famous for its stunning white sandy beach. Both of them are worth a visit, though.
The Nuance
It is hard to describe Kei Archipelago, as it consists of different parts. Not to mention many types of tourist attractions are available there. When it comes to the coastal area, you may see stunning white sand and shady coconut trees. The water has moderate waves and clear visibility, so it is suitable for water sports. The sand has soft and comfortable texture, while the color is white. The prime city is Langgur, which is the capital of Southeast Maluku Regency. Also, tourists have many options of vacation destinations there.
Exploring Kei Archipelago
Kei Archipelago offers tons of tourist attraction, so the one-day holiday is never enough. The lush green hills and sloping beaches may never disappoint visitors. That means you have two primary fun activities, which are trekking and beach walking. The first option is suitable for those who are visiting nearby hills that come with footpath and stairs. Somehow, it takes lots of efforts to reach the top of the hill so you must carry bottled water and come with good stamina. Now that's only the beginning.
When it comes to the coastal area, the most favorite option is Madwaer Beach. The white sand and a formation of coconut trees provide a comfortable nuance to tourists. At night, you can even conduct a BBQ party with lobsters as its special menu. As an alternative, drinking fresh coconuts is quite rejuvenating! With all these interesting activities, you can spend wonderful family vacations or even a honeymoon in Kei! For a better experience, there is Nukahai Island.
That small island (Nukahai) is easy to reach, as you only need to rent a small boat in Kei Kecil Island. Not to mention the voyage only takes a few of minutes. The soft and white sand is stunning and the water looks peaceful. From this location, you can see a flock of seagulls wandering in the shoreline. Next, it is time to visit a neighboring island called Ohoieu, which is famous for its snorkeling spots. Be careful with the big waves, though.
Nearby Attractions
Air Goa Hawang
Ngurbloat Beach
Kei Besar Island
How to Get There
From Kupang City or other provinces, you can simply take an airplane to Dumutubun Airport. From there, your primary checkpoint is Langgur City. It takes about 30 minutes, and the distance is 16 km. Several types of local transportation services are available, so you can choose wisely based on your budget. When it comes to accommodations, both expensive and cheap hotels are available. Make sure to conduct a research first!
Where to Stay
Grand Vilia Hotel
Syafira Hotel
Asnolia Hotel

Latest News
The Martha Christina Tiahahu Monument is located in the Karang Panjang area, about 10 minutes from downtown Ambon. Because the location of the monument is at elevation, the tourists can watch the sparkling expanse of Ambon City glittering at night. From this place, the high seas can be seen clearly. We can see the view of Ambon City. This location is usually used as an alternative place to enjoy the relaxed atmosphere, especially young people who want to enjoy the view of Ambon City. Historically, Martha Christina Tiahahu grew up…
---
Benteng Belgica or Belgica Fort is a heritage fortress from Portuguese that been built in Bandaneira, Maluku Tengah. Bandaneira is a small town that also a heritage city from Portuguese and Duch colonization. This city became important city for Dutch and Portuguese since it produce some of important spices. Since Bandaneira was the center of trading, then the building of fortress is need to be built. This fortress was also play the role as a prison and the place for keeping the gun. At early begin, Belgica was named as…
---
Beaches in Ambon are known well for their beauty. The visitors are not as crown as those who come to pulau Bali or Lombok, but that makes beaches in Kota Ambon still in original and natural condition. One of the favorites is Hunimua Beach. Though the facilities are yet not complete. This beach is also known as Liang Beach for it's located in Liang village, Salahutu sub-district, Central Maluku district, Maluku Province. UN has stated this beach as the most beautiful beach in Indonesia in 1990, and always been target…
---
Village of Sawai, Maluku, is one of destinations in the Manusela National Park. The waters are calm and clean. This tourism village has the same beauty with other islands in Indonesia. This village is famous for its beaches and sea. Most of the sea in the this village is still natural and well preserved. Sawai village is including the oldest villages in Maluku and it has several small islands surrounding it. These islands are also adds to the beauty of the Sea of ??Sawai. What is unique of this village…
---